2014 was a pretty memorable year. Not that all years that I get to do this living thing aren't amazing in their own ways, but 2014 ends tonight, so I'm gonna focus on just this year, okay?
Big things happened in my life, and not just my writing life (but, okay, mostly my writing life). So I'd like to offer up my list of seven life events from 2014 for which I'm super grateful.
1. My first book, IF ONLY, was published on March 24th. And I was all…
And then people read it and liked it and I was so…
2. I wrote another book. It's called WHAT IF, and again I want to express my gratitude to the readers who loved IF ONLY and followed me on the journey to book 2, as well as the new readers who discovered WHAT IF and have been so lovely to Maggie and Griffin. Your support means the world to me. It's because of you that I get to keep doing what I'm doing, and I'm a little verklempt to say the least.
3. I have connected with so many writer friends on social media, and in May I went to the RT Booklovers Convention in NOLA where I got to meet a lot of those lovely people (including my fabulous agent) and can now call them my IRL friends (not that friends on social media aren't real!). So much of what I do is because of the amazing friends I've made. Writing can make you feel like you're on an island, and my support group of writer friends helps me feel connected, lets me know I'm not alone on this journey, buoys me when I need encouragement, and loves me no matter what. I couldn't write without you.
4. After over a decade, I left my day job as an English teacher, a job I loved and am so thankful to have had, for a new direction as a high school librarian. This was a scary move but the right one for me. Can you see a pattern here as far as what I love to do with my life? Because whether it's reading or writing, I'd pretty much always rather be with a book.
5. I wrote two more  books, sold a series to Berkley/Intermix (thank you, rockstar agent), and went on submission with a new series. Guess how I'm feeling again…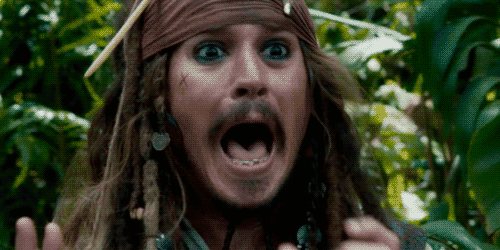 but also…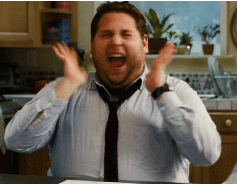 6. So, yeah. I get scared and excited a lot on this publishing road. But I'm learning to write through the fear, to stop comparing myself to other writers because that's their journey, and this is mine. I'm a work in progress with all of this, but each baby step is a step in the right direction. Soon it'll be nothing but smooth sailing, right?
7. And if there's one big thing I've learned, it's to reward myself for accomplishments, no matter how big or small. And if that means binge watching Arrow on Netflix for hitting daily word count and using this as an excuse to put Oliver Queen doing the salmon ladder on my blog, then so be it. I just finished drafting my latest manuscript. I've earned it, right? Plus, watching the 23 episodes of season 1 in 10 days is an accomplishment in and of itself, yes?
It's so easy to miss all the good that happens in a year. Thank you, 2014. You've been pretty fabulous. 2015, bring it on. I promise I'll appreciate you too.
Happy New Year, everyone! Wishing you all the best in 2015!